Koala Christmas Card
Just look at this adorable Christmas card that I created using two different stamp sets. I saw the little Koala with his paw up and thought that he would look so cute holding up some decorations. Then I saw the branch on the Joyful Garland stamp set and the design came to me!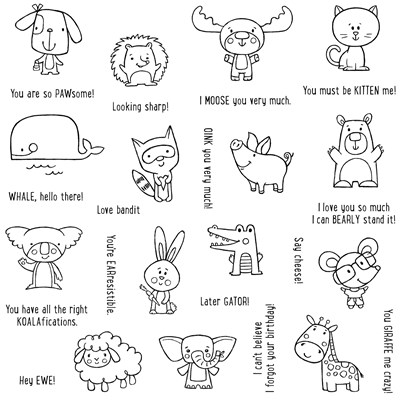 Isn't it sweet?! You will find it on the back cover of your current
Annual Inspirations
Idea Book, available until August 2016.
We donate $7USD from each purchase to Operation Smile, an organisation that provides surgeries for children with cleft lips and palates. Light up some smiles!
The other stamp set I used is called Joyful Garland B1489 and it is only available to
Hostesses
or Consultants. If you host a Gathering with a couple of friends and your sales reach $200, you can get this stamp for FREE with your Host credits. Or place an order with me for $200 and you can also get your Hostess Rewards! Of course if you join my team as a
Consultant
, you can order any of the Hostess Rewards for yourself! You can find it on page 5 of our
Holiday Expressions
and is only available until the end of December 2015.
Let me show you how to make it!
I used one of our
Value Pack
White Daisy card bases.
Cut a
Cranberry
and a
Topiary
Cardstock Piece 4 x 1
3/4".
Cut a White Pines B&T 4 x
1/2"
then use a dauber to colour the edges of the three pieces in
Black Exclusive Ink
. Adhere these to the card as shown. Using
Memento Ink
, stamp the koala on a scrap of White Daisy then the branch and the three ornaments. Stamp the Merry Christmas with Cranberry Ink.
Colour in with our
ShinHan Alcohol Markers
. The koala's tummy is Pastel Peach, body is Warm Grey, nose is Clay and cheeks are Tender Pink. Draw over the branch with a little Sap Green then colour the ornaments with Carmine and Golden Yellow.
Cut the piece down leaving
1/4"
border around your stamping. Mine is 2
1/2
x 3"
.
Next use a dauber to colour the edges with Topiary Ink. Adhere a 5
1/4
" strip of
Gold Shimmer Trim
3/4" up from the bottom of the mats on your card. Apply
3D-foam tape
to the back of your stamped piece and adhere to your card.
Here are some more cute cards I made using the
Animal Greetings
Stamp Set, scraps of fundamentals papers from our last Idea Book and
Kaleidoscope
papers from the current Idea Book.
Thanks for looking!
www.georgiaoshea.ctmh.com.au